Axie Infinity's token has jumped to the highest point since November.

Over 3.8 million of AXS tokens will be unlocked on Monday.

The number of monthly active players has slumped.
Cryptocurrency prices have had a strong start of the year. Bitcoin price surged to above $23,000 during the weekend, the highest point in months. AXS, Axie Infinity's main token, has risen by over 40% in the past 24 hours, according to Binance. This makes it the second-best-performing cryptocurrency after SNM, which has risen by over 127% in the same period.
Avoid this AXS rally
There are reasons to avoid this rally. First, like in stocks, it is always important for you to do your due diligence before you invest in an asset. A quick due diligence shows that this rally is not supported by fundamentals.
First, a closer look at its tokenomics shows that there are about 4.8 million AXS tokens that will be unlocked on Monday. These tokens are valued at over $65 million. This is notable because token unlocks are usually bearish catalysts since they increase the amount of coins in circulation. 32% of total AXS tokens are currently locked.
As such, analysts believe that the team could make an announcement ahead of the release to act as a counter-balance to the move.
Second, Axie Infinity is only valuable if the number of users in the ecosystem are using it. For example, in the stock market, you would only invest in companies that are at least generating revenue. Unfortunately, Axie Infinity's ecosystem is in trouble, with the number of players in a downward trend.
Data collected by ActivePlayer shows that the number of monthly users has crashed to the lowest level in years. The average number of players in the past 30 days was 432k, lower than its all-time high of over 2.7 million.
Therefore, the AXS recovery should be taken with a grain of salt since the fundamentals are not supportive of it.
AXS price prediction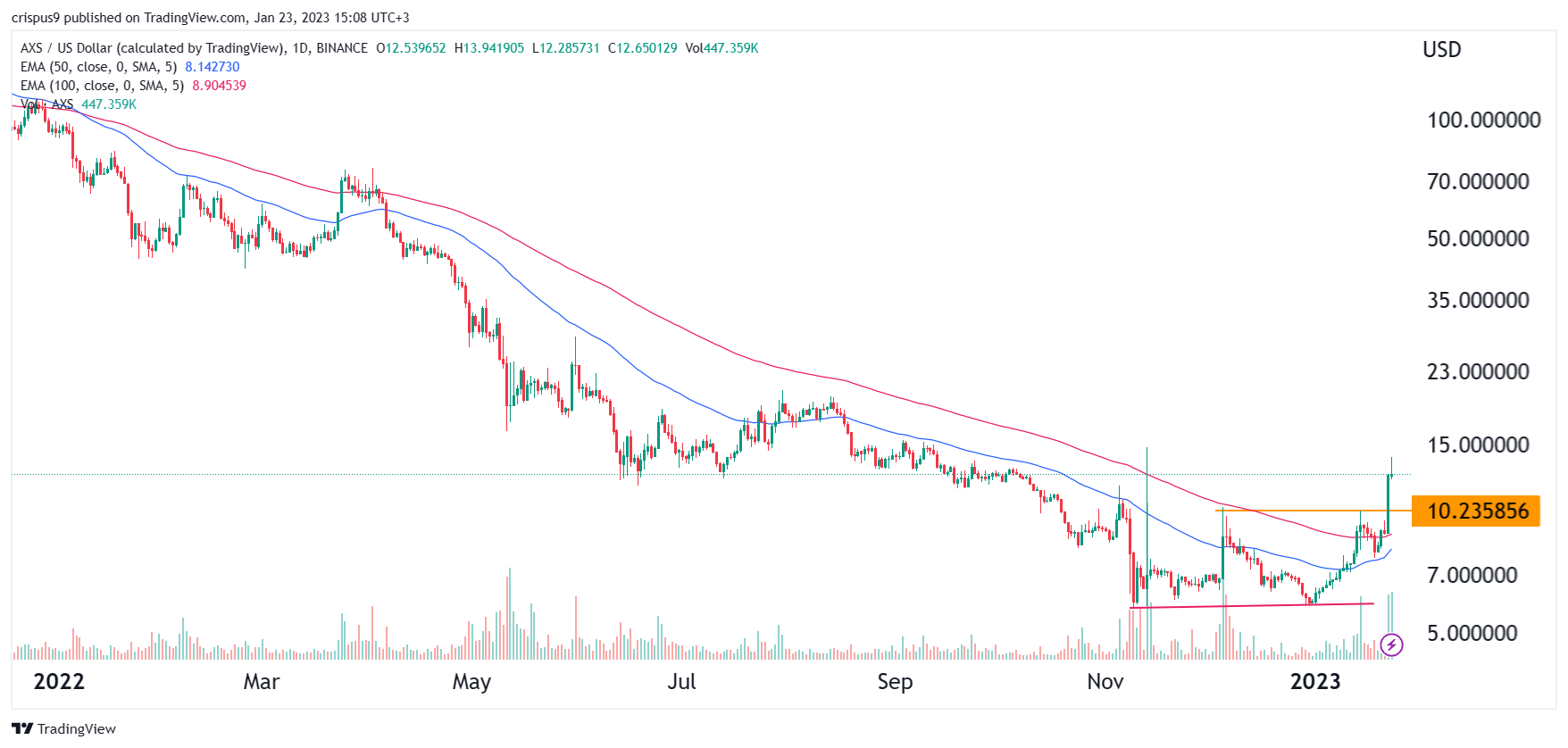 Axie Infinity's token formed a double-bottom pattern at $5.92 between November and December. It managed to move above the upper side of the double bottom's neckline at $10.23. Another bullish thing is that the coin's daily volume has risen in the past 2 days. Therefore, despite these bullish moves, I believe that AXS token price will likely resume the bearish trend and retest the support at $10.23.
Of course, traders could push an asset much higher for no reason. If this happens, the key resistance level to watch will be at $16.
How to buy Axie Infinity
Binance
Binance is one of the largest cryptocurrency exchanges in the world. It is better suited to more experienced investors and it offers a large number of cryptocurrencies to choose from, at over 600.
Binance is also known for having low trading fees and a multiple of trading options that its users can benefit from, such as; peer-to-peer trading, margin trading and spot trading.
Coinbase
Coinbase is a global cryptocurrency exchange. Its platform is well designed for beginner investors and it offers a wide range of coins, as it has over 100 to choose from.
Coinbase has high level security built into the platform, a range of diverse features to use and it offers its users options for storing their crypto, such as being able to store coins on the Coinbase exchange.
The post Axie Infinity's AXS price is surging: Is this a bull trap? appeared first on CoinJournal.